India Tours
Find Your Tour
Our Nepal Earthquake Blog
We use the term Tours for want of a better word. We provide immersive luxury experiences tailored around your preferences, including our unparalleled collection of Small Group India Tours.
Why choose Immersive Travel with Easy Tours? Please note that immersive touring with us may not be right for you. Many people want to see as many of India's amazing destinations as quickly as possible, and these tourists should not use our services. Explorers who are motivated to truly experience foreign cultures will really enjoy our services. Here are a few reasons why -
Immersive travel, no rushing. We cherish quality of experience far more than quantity and our tours have more time at key destinations, when compared to all other agencies. Our guests don't just mark destinations off a checklist.
Why spend the extra time? You can enjoy genuine immersive experiences and really absorb India's fascinating culture. As an example, our tours include a guided visit to the National Museum in Delhi. This is the crown jewel of India's museums, yet no other luxury tour operator (as of May 2015) includes it.
Would a first trip to Paris be complete without a visit to the Louvre, or Washington D.C. without the Smithsonian? With artefacts spanning many millennia, the National Museum will enrich your subsequent tour of India significantly because of what you will learn about its history, culture and people.
Another example is getting to experience the fascinating free lunch event at the Sikh temple in Delhi. Yet another example is the afternoon at Chomu village near Jaipur.
Expert consultants, not sales people. We are true experts in everything we offer. Our Destination Specialists are consultants and will never try to close a sale. All our Specialists spend part of the year touring India and experiencing the same journeys and facilities that our guests do.
You are encouraged to take advantage of this expertise and our private tour guests spend a lot of time communicating with their Specialist so as to create an experience that fits their preferences. Our average guest talks with their India Specialist over sixteen times on the phone before departing for India, and the first call averages over 43 minutes. The average exchange of e-mails (including communication with our Guest Relations staff once reservations are finalized) is over twenty two.
Meaningful interactions, not sanitized tours. We believe that travel should be experienced with an open heart and mind, and try our best to only work with guests that feel the same. Tourists that want to be in constant control of their environment when they travel should strongly consider not visiting India. We know that this is a recipe for disaster when you tour India.
We feel that the best way to explore anywhere is with mindfulness, which lets you enjoy the unexpected. If you need to be in total control while traveling and must mark India off your checklist, we at Easy Tours would appreciate it if you travel with another agency.
We value your time, not just your budget. We value our guests' time above all else. As one example, when we design a tour, we don't just use the hotel offering us the best commission. We start by evaluating hotels based on our personal knowledge, experience and the feedback of thousands of guests.
We then look at many other factors, including the distance of the hotel from the airport or highway for your arrival and departure at that destination. We consider whether that hotel offers an optimum combination of shorter duration (yet interesting) drives for the local explorations.
Our chauffeurs and guides get bonuses if they come up with ideas (such as an alternate route for a period when the existing route is going through delays due to repairs/construction). Our goal is to give you more time to enjoy your tour and/or boutique lodging.
Our Tour Levels
All three of our luxury travel levels come with the industry's highest standard of service.

Small Group India Tours
Private India Tours
5 things not to do on a tour of India
–
suggestions by our founder - -
Read More
By taking some time on this website you will be exposed to an incomparable wealth of information, selection and functionality. Alternatively, you could also call us, or click here, for our most popular tours of India.

A decade ago Easy Tours was the first company to offer luxury travel experiences in India on the internet. Although there are now thousands of companies doing so, we remain trailblazers by constantly evolving and improving our offerings.

Are you interested in India's most interesting regional cuisine? Are you passionate about unique local experiences, India's best golf courses, or its finest spas? Our guests can get expert recommendations and instant reservations.
Unique Local Experiences - Polo at 12,000 feet in the high altitude desert
Who is the best Tour Operator in India? The best tour can only come from an agency that starts with the premise that your time and your money are both very precious and neither should be wasted. We design and facilitate every itinerary while placing a premium on you getting the most for your time.

The best India tours cannot just include monuments, hotels, guides, and transportation. The other key ingredients are unique experiences, great value, local expertise and the highest level of personalized service. We are unmatched in these four categories.

The smart way to plan a tour of India is by letting our India Specialists assist you while you research and plan. Thousands of our guests have expressed gratitude for this service after they returned from India. You can also start by reviewing the web's largest selection of unique experiences in India, or design your own tour, by clicking on the following links -
Slow Travel – we strongly recommend experiencing India at a slower pace than all the itineraries you will find everywhere. This does not mean that we are suggesting that you spend more time relaxing while in India, although that is definitely worth considering at some of the world's most amazing hotels and resorts.

A number of destinations in India offer a lot more fascinating experiences than what existing itineraries offer. Current India tour packages have focused on offering the most destinations possible, and have sacrificed quality for quantity. We are changing that.

Slower Food – preparing really good Indian food has always been a time consuming art, just as it is with most cuisines. We are very conscious of the fact that discovering the culture of a country in inextricably linked with exploring its cuisine. In India this is taken to a significantly higher level because of the extreme diversity of regional cuisines. Yet we also realize that not every visitor is partial to Indian food and so the hotels, and other dining venues we select (including visits with chefs and cooking lessons) offer the very best that the region has to offer, as well as excellent western options (in almost all cases).
Athangudi Tile Crafting (presented by Easy Tours of India)

We are the premier boutique agency for luxury tours in India for many reasons, one of them being that we are the only North America based Agency with ten operations offices in India – most do not even have one!

Why are our own offices in India important? Because our expertise and local presence empowers us to offer the finest services at all three levels of luxury tours that we offer. Any agency can book a room or give you a guide or chauffeur. No one will provide you with the passion and care that our guides, chauffeurs and facilitators will demonstrate – compare our verifiable guest reviews with anyone.
We feel that India has more fascinating experiences than the next five nations on our planet together. Whether it be when you gaze closely into the eyes of a wise elephant, explore incomparable millennia old cities such as Varanasi or UNESCO Sites such as Hampi, Ajanta, Ellora, and Khajuraho, or take your guide's recommendation and play in a game of football (soccer for some) or cricket or kabadi, with kids in a small village that you just happened to be passing through during your explorations.

Monuments and experiences also have the ability to touch most explorers – for example, any visitor (with even a trace of romance in their soul) will experience their heart skip a beat when they get their first real look at the Taj Mahal.

When most of our guests return from one of our India tour packages, they tell us about how passionate every Easy Tours staff member was about India and our company. How they were deeply committed to providing the best and most immersive experience possible. What this does also mean is that, if you are more interested in a sanitized and westernized tour of India like most luxury tour operators provide, we are not the company for you.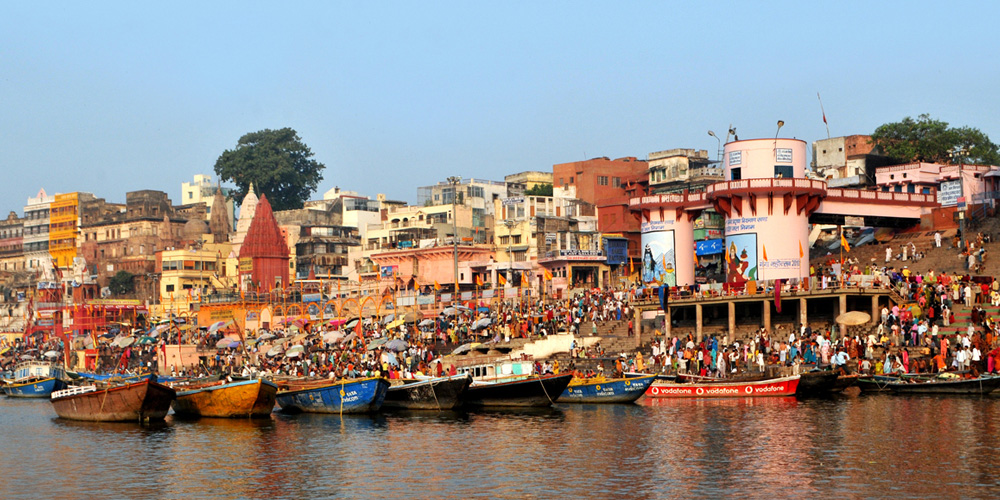 Dashashwamedh Ghat at Varanasi
India will be a good experience for you as long as you do not travel with agencies that sell based only on cheap pricing. The nature of the country and its people ensures that, even with organizations that do not focus on providing excellence at every level, and are thus, sometimes priced lower than Easy Tours.

Will any experience be close to what we provide? NO. Most organizations are not motivated by wanting to show you India as the amazing nation should be experienced. For example, independent travelers often ask us to design a tour of India that is too rushed, not realizing the realities of travel durations in India. Our India Specialists consult with the client and recommend that they either add more time, or reduce the number of destinations that they have selected. If the guest is unwilling to do either, we politely inform them that we are not a good fit for their travel plans. We do not want to facilitate travel if we are unable to provide the best experience possible. No other agency has this philosophy.

We design our package tours of India so to give you the most for your time, not just your money. We keep you away from distasteful experiences that are a part of most train and some road travel. Our India Specialists, Facilitators, Chauffeurs, Guides and Accompanying Tour Directors are passionate about India and will share their passion with you.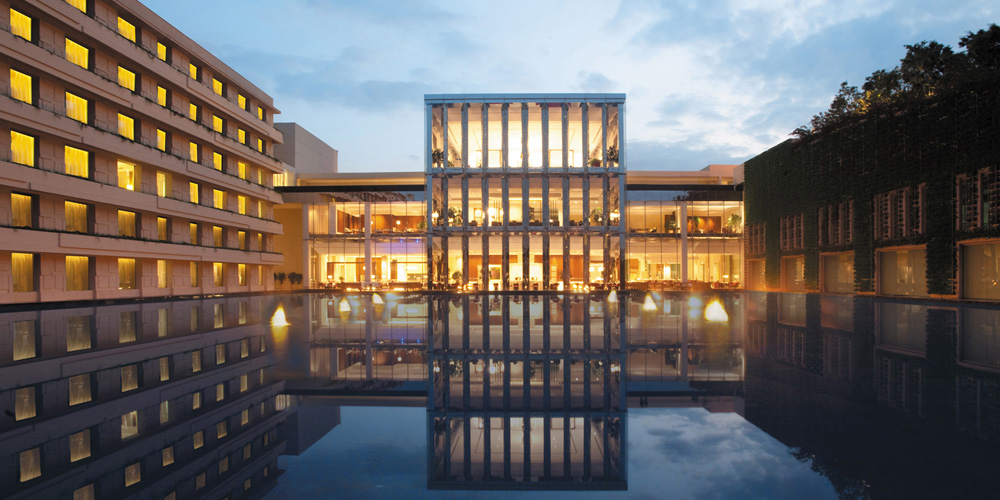 The Oberoi Hotel, Gurgaon
The experts in our Guest Relations & Operations Department's, both in India and the United states, work together to give you amazing service from the day you first reserve, or request information from us. This continues all the way until you return home from your journey through India.

Our Small Group Tours of India are exquisitely planned & facilitated and are All Inclusive. Our Independent India tours include breakfasts and most include a few other meals, but all are facilitated for independent travelers and give you complete flexibility in orchestrating your exploration of India.

An incredible level of service begins when you first contact your US or India based Travel Specialist. Read some of our Verifiable Guest Reviews and compare them to ANY Company servicing ANY part of the world. While our guests are effusive about their praise for India and the hotels we use, what they rave about the most are our people. As the pages and pages of praise for our guides, chauffeurs, guest relations managers, and US and India based Travel Specialists will illustrate, our staff is unmatched in their level of commitment.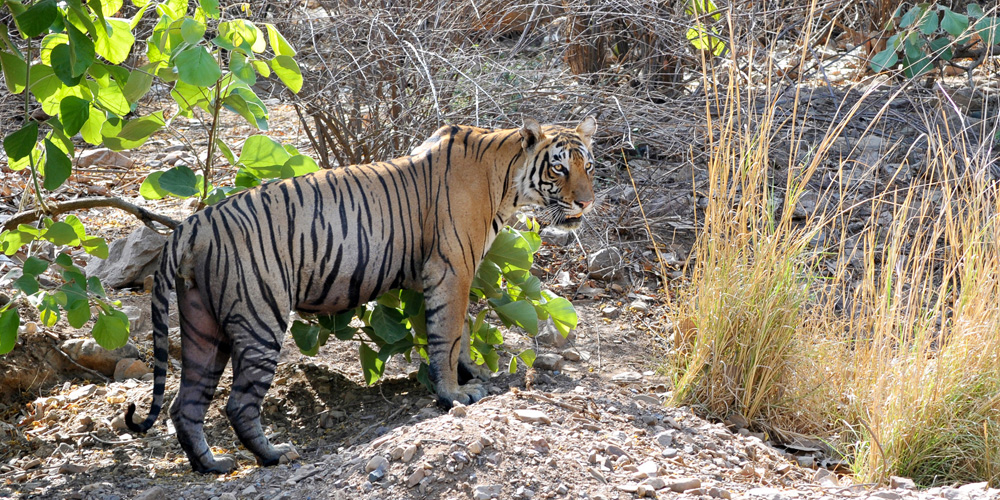 Alpha Male Tiger in Ranthambore National Park
Our website is an example of our commitment to being the very best at what we do. Please take the time to click through to one of the tour pages so that you can experience the amazing interface and incredible depth of information – this website is revolutionary in its simplicity and functionality.

The vast majority of Foreign Tour Operators do not have even one office in India - they are middlemen selling the whole world and marking up the price they receive from an India based company. They all have huge sales offices in the west or in Oceania. Most of the itineraries they advertise have errors in their descriptions and, to someone that knows luxury travel in India, illustrate how that they have very little knowledge of India.

We have 10 well staffed offices in India and we do not have to add additional mark-ups. Our large staff of dedicated professionals in India personally facilitates our guests' vacations and luxury tours of India.

The Specialists in our US and India sales & design departments only cater to travel in South Asia and are true experts. Each one of them spends significant time experiencing India about once every eighteen months - they use the same lodging, flights, vehicles and roads that our guests do - they visit the same attractions.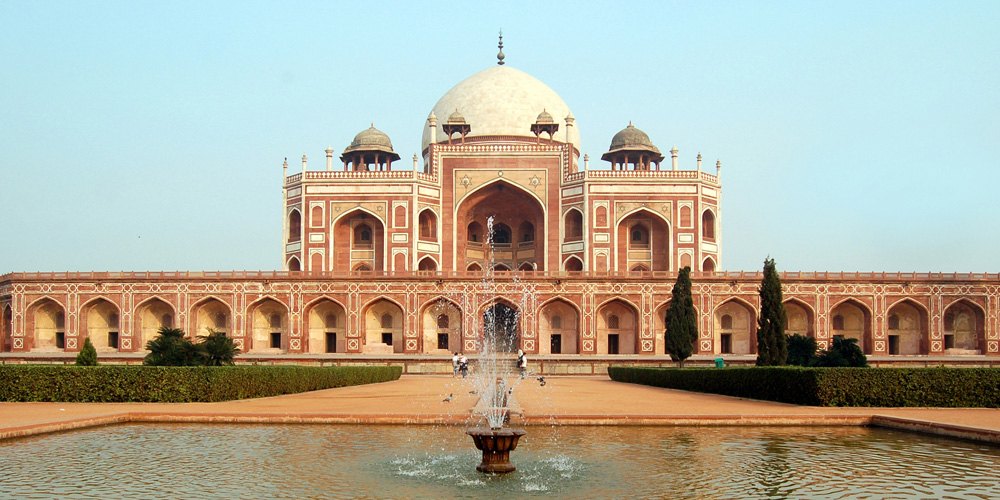 Humayun's Tomb, Delhi - UNESCO World Heritage Site
There are budget agencies that have facilitated tours of India for hundreds of thousands over the last 10 years – we have barely crossed 16,000. Our boutique approach to travel does not allow for much than that and that is why over a third of our travellers are now repeat guests and referrals.

We start with the premise that your time and your money are both very precious & neither should be wasted. The experts in our Guest Relations & Operations Departments in India and the US work together to give you amazing service from the day you first reserve or request information, all the way until you return home from your luxury tour of India.

We then add World Class Service. From the moment that you are greeted by our Visit Facilitator or Tour Director, you enter a world of impeccable service and hospitality. When you journey through India with us, your biggest decisions are what places and experiences you'd like to spend your time exploring, and what cuisine you will want to savor on your next meal. Because of our unmatched local expertise, you get to see all that India has to offer without having to think about logistics.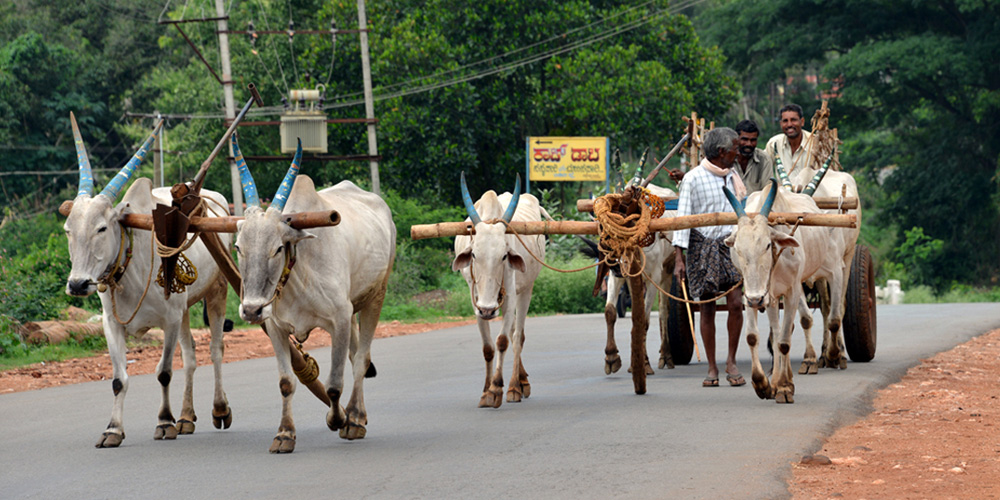 Villagers in Andhra Pradesh
We have built the Best Relationships. We are preferred partners of the finest hoteliers in the world - The Oberoi Group (including the Trident Hotels) and the Taj Group (including the Vivanta and Gateway Hotels) both enjoy reputations that are the envy of every other hotelier on this planet - they both have received more Top 20 accolades (from western experts such as Travel & Leisure and Conde Nast) than any other hotel brand on earth. We are committed to almost exclusively using one of Asia's finest airlines, Jet Airways, unless they do not offer viable options for the relevant flight segment.

We offer the most diverse selection of lodging and services in India. You can choose from the finest luxury hotels to exquisite boutique hotels, from Grand Heritage Palaces to smaller heritage establishments. India's finest staff of expert Tour Directors & Guides will show you the best vantage point for the unusual photograph you seek, or the special restaurant that most tourists never hear about. A wide selection of immaculate late model vehicles is available to suit any preference for your journey through India.

Quality & exclusivity are standard equipment. Our Small Group Explorations have a maximum of 12 members; our average group size is 8. Both Small Group & Independent travelers can choose from 3 different levels of travel, ranging from fairly luxurious to almost decadent.

Guests interested in India vacations or theme based holidays can ask us to arrange just lodging and transportation, and then select from a menu of sightseeing and other options if they so desire.

We offer unique and imaginative itineraries. Unlike other tour operators who offer India tours with the same old tired themes and canned presentations, we offer unique and fresh perspectives that are designed with today's luxury traveler in mind. Read the brochures and /or websites of a few other tour companies. Observe how their India Tours all feel and sound the same. Then read a description of one or two of our tours in India.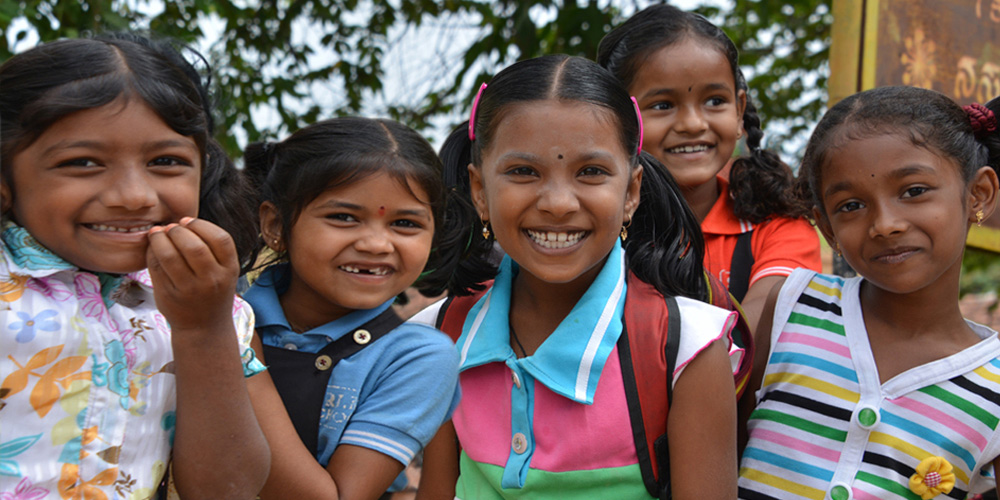 School girls near Hampi, Karnataka
As most Foreign Tour Operators (including the top luxury outfitters) do not have a presence in India and rely on local agents in different Indian cities, if their India based agent suggests a change, these organizations have distinct command chains and thus they do not have the ability to be flexible so they can improve. An example of this is that most of the largest Tour companies in the US are currently showing luxury tour itineraries that include flights that were cancelled over two years ago. Instead of an hour long flight, their clients get an 8 hour drive and lose a complete day of exploring, but are only told this when they arrive in India, with an implication that the flight was just cancelled.

So called "Luxury" agents based in India tend to focus on offering the lowest price. They will find which 4 or 5 star hotel will pay them the biggest commission and design and quote a tour based on that. We base our hotel selections in India on the consistence of quality and the duration of drive time that you will experience during your activities at that destination. We feel that paying a little more to save our guests a couple of hours in drive time is well worth it. An example of the benefits is that you can leave for the airport at 7 am, instead of 6, for an early morning flight.

Other ways we value your time - one of the biggest differences between us and other agencies is that our recommended tours of India are based on you flying between most of your destinations in India, or driving where that is the least tedious and time consuming mode of travel. We do include very short train travel in some itineraries, when that is by far the best option, and can customize an independent traveller's desire for more. We know the drives that offer great opportunities to experience and photograph amazing rural life, or natural scenery, and when these do not add too much time to a flight for the same journey, we facilitate your travel by road.
Tribal Women Visiting Jaisalmer
We specialize in all aspects of luxury travel in India, including trains like the Palace on Wheels, Maharaja Express, and the Deccan Odyssey. We believe that these trains will appeal to rail enthusiasts and to those that India is just something a on a checklist of places they have been. These trains have limited advantages (& luxury, despite their names) and a number of disadvantages. Unless you really love train travel, these experiences are also a poor value.

Besides the above mentioned expensive train tours, it is not a good idea for most foreign explorers to travel by train while in India. Many explorers planning an India tour have a highly romanticized image of train travel. This has been propagated by many motion pictures and other accounts, most recently by a movie called The Darjeeling Express. Take our word for it, these accounts are completely fictitious. In almost all train travel the sanitation is very poor, the hygiene in food options unsafe, and comfort is pretty much non-existent. Is it a very unique experience? Yes, it is. Is there a very good chance that you will suffer some stomach issues that will severely affect your India tour? YES, there is.

Experience more of the incredible culture of India, and less of India's limitations - India offers the richest & most colorful culture on this planet and its people are among the most gracious in the world. However, this ancient civilization also has a lot of facets that can be hard on an unprepared visitor - especially in terms of optimum utilization of your time, and the lack of proper sanitation / hygiene.

Time is not usually valued highly in India and most companies (including western tour operators that are middlemen depending on Indian agents) design travel itineraries where you waste a significant portion of your time in uninspiring and inefficient travel, often because this allows the agent to offer a lower price.

If you follow our recommendations on travel, you end up avoiding wasted time and poor levels of sanitation. This enables you to spend more time experiencing, exploring and relaxing at your destinations. Click here to learn more.
Monkey Business
We save you money. Luxury tours of India cost less with us, unless you are comparing us to agency's that don't really know what true luxury is. Compare us to the other reputable companies that offer luxury travel in India. No one offers the value we offer. If you find a less expensive India tour, there will be many good reasons why it's cheaper.

You are the boss! You determine the priorities. It's your time - you decide what to do. Most activities during our India Tours are elective, and you can even opt out of most excursions when you are on one of our exquisitely planned Small Group Tours of India.

There is a severe shortage of good hotels in India during the peak tourism season and availability can be slim. We have the relationships to secure the better rooms when others can't, thereby making your India tour a better experience.

No one offers the vehicle choices that we do. Most so called luxury Tour companies only offer the vehicles we offer at our First Class Level. We include two levels of automobiles above that, starting with a Japanese Crossover and moving up to larger vehicles of Japanese and European origin.
Easy Tours of India

Reviews

4.8

out of

5

based on

418

ratings.
Brendan McGuire
September 2014
It was a really incredible trip and "Easy Tours of India" helped make it so great. Thank you!
PRIVATE TOUR OF INDIA
Review rating:
(
5
/5)
Review submitted: .
Penny Schiller and William Simpson

February 2014
My wife and I just completed the 13 day tour of north India of February 13 to February 25. I am contacting your to tell you what an outstanding tour ETI provided. It exceeded all of our possible expectations. Every need was met, and many unexpected services were provided. Nothing came close to going wrong. Our guide was Abid Ali, and he was outstanding. You have a winner in him. REFERENCE AVAILABLE.
SMALL GROUP INDIA TOUR
Review rating:
(
5
/5)
Review submitted: .
Barbara and Robert Stepleman

Feb - Mar 2012.
Now that we have time to catch up, I want to thank you and Easy Tours of India for an unforgettable trip. We could not have asked for a better tour company. You exceeded our expectations. We certainly feel that we got what we paid for and more. The tour guides were wonderful as were the drivers. In every city we were greeted by a representative from that city to make sure everything was as we expected. Guest Relations calls were an added bonus. Thanks again. REFERENCE AVAILABLE.

PRIVATE TOUR OF INDIA
Review rating:
(
5
/5)
Review submitted: .
Clarissa Myers

November 2013
Thank you for trying very hard to help us even though I know my companion travels and possibly me were difficult to deal with.
PRIVATE TOUR OF INDIA
Review rating:
(
4
/5)
Review submitted: .
Mr. Adam Benjamin Hirsch / Ms. Dana Ashley Pomerantz Hirsch.

Jun 10
I'm writing on behalf of myself and my wife who recently took a personalized trip with Easy Tours of India. I would just like to give a few comments about how amazing the trip was. From the moment we landed in Delhi until the moment we left, we felt like we were VIP guests that were taken care of in every way possible. All of the activities were a lot of fun, and every tour guide we had knew so much about India and gave us a different perspective that we felt that we came away with a much greater understanding of the country than we originally had.
I also want to point out one tour guide that really stood out, our Agra guide. From the minute we met him we hit it off with him and his warm personality. He immediately became our personal photographer and posed us in all different places around the Taj Mahal, the Black Taj, and the other sites in Agra. We were able to get so many great photos of myself and my wife thanks to him. As he gave us the tour, he would give us a little time to sit and think about all of the information he was providing, and was always quick to answer questions. He knew the answer for every single question we could throw at him, and never made us feel stupid for asking anything. His personality was also great By the end of our two days in Agra, we had become close friends. He also told us so much about Indian culture and Muslim culture that we were curious about. He made sure that Agra was the highlight of our time in India. While the city of Agra and the sights of the Taj Mahal were beautiful, he made Agra so amazing for us. As we recommend Easy Tours to every single person we know of that would like to go to India, we will also recommend him for anyone's stay in Agra. He is a great asset to have with Easy Tours, and you are very lucky to have him.
Again, the trip was unbelievable, and Easy Tours really was everything we had hoped it would be. Thank you so much for everything, and we will happily recommend Easy Tours to anyone we know of who would like to travel India with a great tour company. REFERENCE AVAILABLE.
PRIVATE TOUR OF INDIA
Review rating:
(
5
/5)
Review submitted: .
Mr. Joseph Countryman

Jan 09.
I had a fantastic trip in January 2009. My drivers and guides were the very best. Humble, knowledgeable and above all concerned that I have the best trip of my life! I never dreamt that a one person tour group would get such outstanding service. They told me I was the Maharaja and they meant it. I am not used to be treated like royalty but after two weeks I started to get used to it!!
Your staff was just outstanding. Meeting me and assuring everything is perfect. I felt like part of the India family and I will never forget your competence, your attention to detail and your kindness. I am telling everyone that will listen that Easy Tours of India is the BEST tour company in the world and a GREAT BARGAIN. Please feel free to publish this and list me as someone to contact.
Thank you again for a wonderful experience. REFERENCE AVAILABLE.
PRIVATE TOUR OF INDIA
Review rating:
(
5
/5)
Review submitted: .
Robin and Clifford Topol

April 2014
We are back and recovered from jet lag and finally able to reflect on what was a truly great trip and wonderful experience. The trip was well thought out and provided multiple highlights. Arpita did a great job and called several times to check our progress. Raju, our driver from Delhi thru Jaipur, is a warm and good person. The hotels were exceptional and the service was at a very high level. Thank you for letting the hotels know that it was Robin's birthday. It made the trip very special for her. Thank you again and please make sure that all involved, in making our trip a success, understand that we are thankful and will be referring Easy Tours to our friends. REFERENCE AVAILABLE.
PRIVATE TOUR OF INDIA
Review rating:
(
5
/5)
Review submitted: .
Julie Boyd, Claire Finnk, Celeste Averill, Jeffery Averill, Jr.

February 2014
Easy Tours did a wonderful job. The whole time we kept saying to each other, "Easy Tours is so great." Everything went like clockwork . Everyone bent over backwards to give us the best service . The guides were highly intelligent, knowledgeable and patient. I felt safe at all times, except on our drive to Delhi. Theresa worked hard to arrange getting us to an orphanage we needed to visit near Trichy, as well as adding in experiences that might interest us. We would especially like to commend our first driver, Logan. His level of caring really added to our trip experience.
PRIVATE TOUR OF INDIA
Review rating:
(
5
/5)
Review submitted: .
Ron Ehle and Paul Wathern

February 2014
Excellent rating for Tour Design, Guides, Hotels, Ground Transportation, Transfers.
I have nothing but praise for the whole team that is "Easy tours of India"! Best tour company experience I've ever had! REFERENCE AVAILABLE.
SMALL GROUP INDIA TOUR
Review rating:
(
5
/5)
Review submitted: .
View more Guest Reviews