Train Tours Menu

The Deccan Odyssey - 8 Days
Detailed Itinerary
Day 1: Mumbai – Sindhudurg.
You are picked up from your hotel (or other choice of location at Mumbai) in the morning and will proceed for a guided city tour of Mumbai (an exclusive from Easy Tours of India). The tour begins at the Prince of Wales Museum, built to commemorate King George V's first visit to India in 1905.
Designed in the Indo-Saracenic style, the museum has sections of art, paintings, archeological exhibits and natural history. After the museum tour you will visit the famous 'Dhobi Ghat' & observe the age old tradition of the Dhobi's doing Mumbai's laundry! Continue the tour with a drive up to Malabar Hill, where the hanging gardens give a panoramic view of the city and the "Queen's Necklace" (Marine Drive). The tour then takes a drive through the Flora Fountain and Fort area, where you can view the impressive Gothic and Victorian buildings that were constructed during the British 'Raj'. Visit the Victoria Terminus (now known as Chhatrapati Shivaji Terminus). It is India's finest example of a Gothic architecture and one of the world's busiest railway stations. Drive around Horniman Circle and visit the Town Hall, right beside the docks of Mumbai. Visit the city's signature landmark, "The Gateway of India", situated overlooking Mumbai's harbor. This structure was built to commemorate the visit of King George V and Queen Mary to Mumbai. After your tour you are driven to the Chhatrapati Shivaji Rail Terminus. At 3 PM you are welcomed aboard the Deccan Odyssey. The Deccan Odyssey departs at 4:40 pm and dinner is served at 8 pm.
Day 2: Sindhudurg.
Enjoy breakfast aboard the Deccan Odyssey at 6:30 am. At 8 am you will depart for Malvan Jetty. At 9:30 you will visit Sindhudurg Fort by boat. At noon you arrive at Takarli Resort, where you are at leisure after an enjoyable lunch. At 3:45 you depart for Dhamapur Village via your air-conditioned coach. On the way you will visit a cashew factory. Enjoy dinner aboard the Deccan Odyssey.
Day 3: Goa.
Enjoy breakfast on the Deccan Odyssey. Western hippies and sun lovers gave Goa international recognition almost fifty years ago; it's been
a tourism destination for Indians for quite a bit longer than that. Goa's numerous beaches are everything that they're professed to be, with miles of beautiful sand and water that stays warm even in the winter. There are enough beaches to ensure relative privacy, as well as spectacular beachfront hotels and resorts that can provide any service you may require. There are lush forests and plantations; vivid 'bazaars' and events; as well as unique local handicrafts and souvenirs. From the 3rd century BC onwards, Goa was ruled by various Hindu dynasties. Despite that, Goa and its people seem to have been influenced more by the Portuguese that came afterwards. The Portuguese arrived here in the early 16th century and were not eased out by the Indian government until 1961. The architecture, customs, lifestyle, people are still primarily influenced by the departed occupants, in stark contrast to the conservative social mores of the rest of India. You will take a tour of the historic churches in Goa: Saint Augustine, the Basilica of Bom Jesus, and the Se Cathedral. Visit the St. Francis of Assisi museum and view its collection of Goan antiques. You will also visit Fonthanas, the Latin quarters at Panjim. Enjoy lunch aboard the Deccan Odyssey. At 4:15 PM you will depart for dinner and a cultural night at a beach resort and return to the Deccan Odyssey.
Day 4: Goa.
Enjoy breakfast on the Deccan Odyssey. Depart via an air-conditioned coach to visit the Mhalsa and Mangeshi Hindu Temples. You will also visit the Sahakari Spice Farm at Ponda and will be able to see a variety of locally grown spices. Enjoy a traditional Goan style lunch at the farm. After lunch you will proceed to Chandoi Village where you will visit the Menezes Braganza House, a beautiful 16th century heritage home. Return to the Deccan Odyssey and depart for Kolhapur. Enjoy dinner aboard the Deccan Odyssey.
Day 5: Kolhapur.
Enjoy breakfast on the Deccan Odyssey. Arrive in Kolhapur. Visit the Shalini Palace, Mahalaxmi Temple and the New Palace. You will get the opportunity to experience cultural programs and visits to handicraft stalls. Enjoy lunch and dinner aboard the Deccan Odyssey.
Day 6: Aurangabad.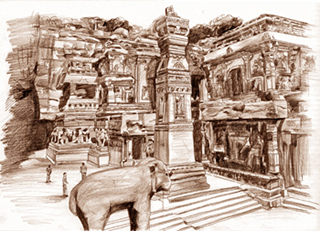 Arrive at Daulatabad railway station and enjoy breakfast aboard the Deccan Odyssey. Tour the Daulatabad Fort and the Ellora caves. The Ellora Caves were sculpted by Buddhist monks starting in the 7th century BC. The next two centuries saw a resurgence of Hinduism, reflected by the creation of the next 17 caves with Hindu themes, sculpture and art. These caves include Cave 16, the awe-inspiring "Kailash Temple". This cave temple, like all the others, was created out of one rock. However, the significance of that fact changes when you put it in the perspective of this enormous structure. The remaining four caves were created during Jainism's heyday in this region and are built to a slightly smaller scale. The Ellora caves did see destruction under the Moghul Emperors; many shrines and other art were either destroyed or damaged. Fortunately, most of the monuments survived. Enjoy lunch in a hotel in Aurangabad. After lunch you will depart for local sightseeing including a visit to the Bibi-Ka-Maqbara and free time for shopping. Enjoy dinner on the Deccan Odyssey.
Day 7: Bhusawal.
Enjoy breakfast on the Deccan Odyssey. Arrive at Bhusawal Railway Station and depart via an air-conditioned coach to visit the UNESCO World Heritage Ajanta caves. Along with the Ellora Caves, the Ajanta Caves are amazing achievements more ancient than most of the other destination in India. Carved into the hard basalt of remote hillsides in Maharashtra, these caves have remained miraculously undamaged over two millenniums. You begin by being awed at their sheer size. Buddhist monks and other craftsmen began excavating, sculpting and painting at Ajanta in the 2nd century BC. The incredible variety of paintings and sculpture were created in hard rock by using elaborate and ingenious lighting, tools and materials. These 28 caves are a testament to the devotion of the Buddhists as well as the talents of their skilled craftsmen. Ajanta's incredible paintings are even more amazing considering that the color and texture you're admiring was created by artists about 2000 years ago. Ajanta was known only to the hill tribes till the early 19th century, when a group of British army soldiers were led to it by one of these locals. Return to the Deccan Odyssey and depart for Nashik. Enjoy lunch on the Deccan Odyssey. After lunch depart via an air-conditioned coach to explore the Panchwati Ghats and Ancient Temples. Enjoy dinner on the Deccan Odyssey.
Day 8: Mumbai.
Enjoy breakfast aboard the train. Upon your arrival at Mumbai railway station you will disembark and bid farewell to the staff of the Deccan Odyssey.
Easy Tours of India
services restart here - upon your arrival at Mumbai you are greeted at the train station by an Easy Tours Facilitator & your chauffeur. This is a good time to do some last minute shopping and/or sightseeing if you are so inclined.
Your vehicle and chauffeur
stay with you until your (usually late evening) assisted check in at the airport. If your flight departs early in the morning you may want us to arrange a room for you so you can rest. Post Deccan Odyssey Land Tours can be facilitated from this point on, if you so desire.
Our services end at Mumbai airport.
Inclusions:
* An Easy Tours Exclusive: Personal International Arrival and Departure Transfers
* An Easy Tours Exclusive: Personal Guided Mumbai Sightseeing
* Deluxe cabin with attached bath
* All meals, including tea, coffee and mineral water
* Transport for sightseeing with Deluxe Coaches
* Entrance fee to monuments and museums
* English speaking guides
Experiences:
* Boat ride at Sindhudurg Fort
* Lunch and Leisure at Takarli Beach Resort
* Traditional Goan meal at a Spice Farm
* Cultural Program at Kohlapur

Excursions:
* Visit a Cashew Factory and Dhamapur Village
* City Tour in Goa including – Portuguese Churches, Fontanhas, Latin Quarter and Beach
* City Tour in Kolhapur including – New Palace, Mahalaxmi Temple, Shalini Palace
* Visit UNESCO World Heritage Ajanta and Ellora Caves
* Visit the Daulatabad Fort in Aurangabad
* Panchawati Ghats

Not included:
* International Travel
* Expenses of a personal nature like tips, laundry, telephone calls, liquor etc.
* Business Car Facilities, Spa Car Facilities
* Travel insurance, visa etc.
* Video Camera Fees

Dates - The Deccan Odyssey - 8 Days
| | |
| --- | --- |
| | Add International Flights |
Select
Departure Date
Domestic
Air Travel
Availability
Comments
Single Room Supplement - -

( Prices include all Current Taxes & Surcharges )



Guest Reviews - The Deccan Odyssey - 8 Days
Itinerary Calendar - The Deccan Odyssey - 8 Days
The Deccan Odyssey - 8 Days (First Class Level)
Please Select Departure Date
Tour Photo Gallery
Tour Map
Click on the destinations for information
Map & Photos - The Deccan Odyssey - 8 Days
Tour Photo Gallery
Tour Highlights
Hightlights - The Deccan Odyssey - 8 Days

This Visit gives you some of the best highlights of India.
Exclusive Experiences
City Tour of Goa
Enjoy a Traditional Goan Meal at a Spice Farm
City Tour of Kolhapur
Boat Ride at Sindhudurg Fort
Exploration of Ajanta and Ellora Caves

UNESCO World Heritage


Ajanta and Ellora Caves, Aurangabad
Churches and Convents in Goa

Other Sights
Latin Quarter, Goa
Cashew Factory
Dhamapur Village
Daulatabad Fort
Panchawati Ghats
Mahalaxmi Temple
Tour Photo Gallery
Tour Map


Tour Highlights
Tour Map
Play Slideshow
Photos - The Deccan Odyssey - 8 Days