Train Tours Menu

The Golden Chariot Pride of the South
Detailed Itinerary
Day 1: Bangalore.
If you decided to arrive a day earlier and had us book your hotel room for the night, you will be assisted with checkout and taken to the Taj West End hotel at 3 pm. If you did not use our services for the previous night's hotel stay, we will pick you up from your choice of location within Bangalore city limits and taken to the Taj West End hotel at 3pm. Enjoy high tea in the banquet hall followed by a presentation on safety. Visit the Chitrakala Parishad Art Gallery and watch a cultural show. You will be taken to the Yeshwanthpur Railway Station, Platform No. 6, at 8 pm. Board the Golden Chariot and enjoy dinner aboard. Depart for Mysore at 9 pm.
You have the alternate choice of meeting at the Native Village Eco Resort by 11 am. If you have chosen this alternative you will require an earlier checkout. You will have lunch and take a resort tour. Then you will take an art and cultural tour followed by an herbal and organic medicine tour. After that you will explore village life with a pottery session, village games and bullock cart rides and then depart to Yeshwantpur Railway Station at 6 pm.
Day 2: Bandipur.
Enjoy breakfast aboard the Golden Chariot and then take an excursion to the majestic Mysore Palace. Mysore's awe-inspiring royal palace is a sight to behold and rivals any of the royal palaces in the world for sheer grandeur and lavishness of art and architecture. Depart for Bandipur. Bandipur National Park was once the hunting ground of Maharajas. At 1 pm you reach the jungle lodge where you will enjoy lunch. After lunch experience a jungle safari at the park. Return to the lodge and enjoy your evening by watching a wildlife film and eating dinner. Spend the night at the jungle lodge.
Day 3: Mysore.
Awaken to the sweet chirping of birds and enjoy breakfast at the jungle lodge.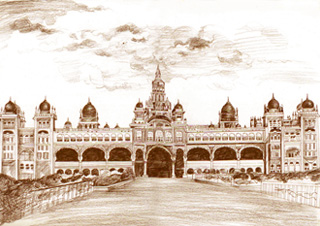 Enjoy a sunrise boat safari into the park, where you may catch a glimpse of an elephant, leopard, tiger or any number of other wildlife that call the park home. After breakfast you will be taken back to Mysore. Enjoy lunch aboard the Golden Chariot. Proceed for a sightseeing tour of Mysore. Mysore is called "The City of Palaces". There are a number of impressive temples in Mysore, and like Bangalore, a profusion of gardens and plants. You will be taken to Srirangapatnam, an island fortress of the great warrior Tipu Sultan. Inside the fortress walls are a mosque with twin minarets, Wellesley Bridge and dungeons where the British were once imprisoned. You will then have a chance to shop. Proceed to the Lalitha Mahal Palace Hotel for a cultural performance and dinner. Board the Golden Chariot for the next leg of your journey.
Day 4: Hassan.
Arrive in Hassan at 8:15 am. Your first stop will be at Shravanabelagola, the Jain pilgrimage center. The 58 foot tall Lord Gomateswara statue atop Vindhyagiri Hill can be seen from a distance. Remain in the Golden Chariot if you do not wish to climb 700 steps. Enjoy lunch aboard the Golden Chariot. Visit Belur and Halebid, known for their Hoysala architecture. The Chennakesava Temple at Belur and the temple at Halebid are the main attraction. Enjoy dinner aboard the Golden Chariot.
Day 5: Hospet – Hampi.
Arrive in Hospet. Enjoy breakfast aboard the Golden Chariot. Explore the medieval village of Hampi which used to be the capital of the largest and most glorified Hindu kingdom, Vijayanagar. Hampi was built in 1336, but was left to ruin by the Mughal conquerors after 1565. It retains its sense of wealth and splendor. You will tour Virupaksha Temple, the Queen's bath, the elephant stables, a local craft bazaar, the Royal enclosure and the Hazara Rampa Temple. Return to the Golden Chariot to enjoy lunch. Proceed on a tour of the Vittala Temple and see its Stone Chariot, after which the Golden Chariot was named. Enjoy dinner aboard the Golden Chariot.
Day 6: Badami - Pattadakal.
Enjoy breakfast aboard the Golden Chariot. Tour the Badami caves, containing the 18 armed sculpture of Nataraja who is striking 81 dance poses. Proceed on a tour of Pattadakal. Located at the banks of the Malaprabha River, it houses temples built by the Chalukyan Kings. It is a ceremonial center where the kings once performed their coronation ceremony.
Day 7: Goa.
Enjoy breakfast aboard the Golden Chariot.
Visit the famous historical churches, followed by a visit to a Portuguese home for tea, coffee and cookies. Western hippies and sun lovers gave Goa international recognition almost fifty years ago; it's been a tourism destination for Indians for quite a bit longer than that. Goa's numerous beaches are everything that they're professed to be, with miles of beautiful sand and water that stays warm even in the winter. There are enough beaches to ensure relative privacy, as well as spectacular beachfront hotels and resorts that can provide any service you may require. There are lush forests and plantations; vivid 'bazaars' and unique local handicrafts and souvenirs. From the 3rd century BC onwards Goa was ruled by various Hindu dynasties. Despite that, Goa and its people seem to have been influenced more by the Portuguese that came afterwards. The Portuguese arrived here in the early 16th century and were not eased out by the Indian government until 1961. The architecture, customs, lifestyle and people are still primarily influenced by the Portuguese, in stark contrast to the conservative social mores of the rest of India. Travel to Majorda Beach Resort for lunch. Enjoy an ayurvedic massage, visit the casino and enjoy a dip into the ocean or the resort's pool. Enjoy dinner aboard the Golden Chariot.
Day 8: Bangalore.
Enjoy breakfast aboard the train. Upon your arrival at Yeshwanthpur railway station you will disembark and bid farewell to the staff of The Golden Chariot.
Easy Tours of India
services restart here - upon your arrival in Bangalore you are greeted at the train station by an Easy Tours Facilitator & your chauffeur. This is a good time to do some last minute shopping and/or sightseeing if you are so inclined.
Your vehicle and chauffeur
stay with you until your (usually late evening) assisted check in at the airport. If your flight departs early in the morning you may want us to arrange a room for you so you can rest. Post Golden Chariot Land Tours can be facilitated from this point on, if you so desire.
Our services end at Bangalore airport.
Inclusions:
* An Easy Tours Exclusive: Personal International Arrival and Departure Transfers
* Deluxe cabin with attached bath
* All meals, including tea, coffee and mineral water
* Transport for sightseeing with Deluxe Coaches
* Entrance fee to monuments and museums
* Cultural Programs
* English speaking guides

Experiences:
* Bangalore - High Tea at Taj West End and visit to Chitrakala Parishad Art Gallery OR Visit and Activities at Native Village Eco Resort
* Jungle Safari at Bandipur National Park
* Boat Safari at Bandipur National Park
* Cultural Performance and Dinner at a Heritage Hotel in Mysore
* Visit a traditional Portuguese home in Goa for tea, coffee and cookies

Excursions:
* City Tour of Mysore including – Mysore Palace, Srirangapatnam, Temples
* City Tour of Hassan including – Ancient Temples of Belur and Halebid, Sravanabelagola Statue
* Hampi – Explore the medieval village and UNESCO World Heritage Site of Hampi
* City Tour of Pattadakal and visit to Badami Caves
* City Tour of Goa including – Historic Portuguese Churches, Temples and Beach

Not included:
* International Travel
* Expenses of a personal nature like tips, laundry, telephone calls, etc.
* Drinks (soft drinks, cocktails and Liquor)
* Business Car Facilities, Spa Car Facilities, Salon Car Facilities, Casino Excursion
* Travel insurance, visa etc.
* Camera Fees – Still and Video

Dates - The Golden Chariot Pride of the South
| | |
| --- | --- |
| | Add International Flights |
Select
Departure Date
Domestic
Air Travel
Availability
Comments
Single Room Supplement - -

( Prices include all Current Taxes & Surcharges )



Guest Reviews - The Golden Chariot Pride of the South
Itinerary Calendar - The Golden Chariot Pride of the South
The Golden Chariot Pride of the South (First Class Level)
Please Select Departure Date
Tour Photo Gallery
Tour Map
Click on the destinations for information
Map & Photos - The Golden Chariot Pride of the South
Tour Photo Gallery
Tour Highlights
Hightlights - The Golden Chariot Pride of the South

This Visit gives you some of the best highlights of India.
Exclusive Experiences
City Tour of Mysore
City Tour of Hassan
Exploration of the ruins at Hampi
City Tour of Pattadakal
City Tour of Goa
Safaris at Bandipur National Park

UNESCO World Heritage


Hampi
Group of Monuments at Pattadakal
Churches and Convents of Goa

Other Sights
Mysore Palace
Temples of Belur and Halebid
Sravanabelagola
Badami Caves
Srirangapatnam
Tour Photo Gallery
Tour Map


Tour Highlights
Tour Map
Play Slideshow
Photos - The Golden Chariot Pride of the South